Dried Food
Product categories of Dried Food, we are specialized manufacturers from China, Dried Red Goji Berry, Red Wolfberry Tea Soup suppliers/factory, wholesale high-quality products of Dry Food R & D and manufacturing, we have the perfect after-sales service and technical support. Look forward to your cooperation!
China Dried Food Suppliers
Goji berry for people on the commodity Goji berry, plants Ningxia Goji berry, Chinese Goji berry and other Goji berry species collectively. People often eat medicinal medlar mostly Ningxia medlar fruit "medlar", and Ningxia medlar is the only load "2010 edition of Chinese Pharmacopoeia" varieties.
Ningxia Goji berry cultivated area in China the largest. Ningxia Goji berry are mainly distributed in northwestern China, while in other areas common Chinese Goji berry and its variants.
If "Goji berry" refers to the commodity "Goji berry", the basic is derived from Ningxia Goji berry dry and ripe fruit; if "Goji berry" refers to the wild Goji berry plants other than the northwest region, the basic plant Goji berry or Goji berry .
Ningxia Goji berry shrub, or cultivation of large shrubs due to artificial pruning, 0.8-2 meters high, cultivators stem diameter up to 10-20 cm; branches finely, when wild more and slightly ramp up or bow bow, when cultivated Twig bow song and the crown mostly round, with vertical ribbing, gray or gray, glabrous and slightly shiny, with no short leaves spines and leaves, flowers, long thorns. Leaves alternate or clustered, lanceolate or oblong-lanceolate, apically short acuminate or acute, base cuneate, 2-3 cm long, 4-6 mm wide, up to 12 cm long, 1.5-2 cm wide , Slightly fleshy, veins not obvious.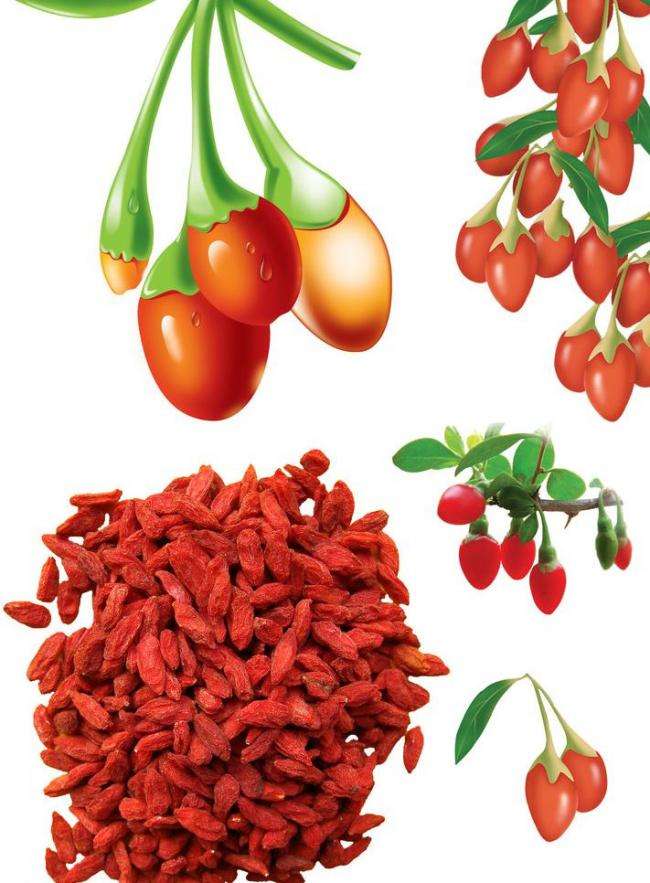 Main Ingredients: medlar contains betaine, atropine, gyoscyamine.
Lycium barbarum polysaccharide: Lycium barbarum polysaccharide is a water-soluble polysaccharide, is the most important active ingredient of Chinese Goji berry, the relative molecular mass of 68-200, becoming a hot research at home and abroad. Which in order to LBP immune regulation and anti-tumor effect of the most. There are many studies have shown that LBP has the role of promoting immunity, anti-aging, anti-tumor, free radical scavenging, anti-fatigue, anti-radiation, liver protection, reproductive function protection and improvement.
Betaine: The chemical name is 1-carboxy-N, N, N-trimethylaminoethyl lactone. It is chemically similar to amino acids and belongs to quaternary ammonium bases. Betaine is one of the major alkaloids in goji berries, leaves and stalks. Goji berry on lipid metabolism or the role of anti-fatty liver is mainly due to the betaine contained in it in the body as a methyl donor role. Research on Lycium betaine is limited to the domestic determination of the content, the extraction process and the physiological role of Lycium barbarum plant (enhanced salt tolerance) research, the pharmacological effects of Lycium betaine little research.
Lycium pigment: Lycium pigment is present in the Goji berries of various types of color material, is an important physiological active ingredient of Goji berries. Mainly include - carotene, lutein and other colored materials. Lycium contains the carotenoids have a very important medicinal value. Many studies have proved that Goji berry seed pigment has the function of improving human immune function, preventing and inhibiting tumor and preventing atherosclerosis. Carotene is the main active ingredient of lycopene pigment, with antioxidant and vitamin A as a precursor of synthesis and other important physiological functions.
Pharmacological effects: have an impact on immune function.
Taste: Goji berry: sweet, flat. Goji leaves: bitter, sweet; cool.
Function: Goji berry: Liver, Kidney, lungs. Goji leaves: tonic Yijing, heat eyesight.