Processed Food Products
Product categories of Processed Food Products, we are specialized manufacturers from China, Processed Food Products, Processed Survival Food suppliers/factory, wholesale high-quality products of Processed Food Storage R & D and manufacturing, we have the perfect after-sales service and technical support. Look forward to your cooperation!
China Processed Food Products Suppliers
Food processing is the process of passing something that can be eaten, resulting in more delicious or more beneficial changes. The original grain or other raw materials through the human treatment process to form a new form of direct consumption of products
With the rapid growth of China's food industry production, the industrial structure has been continuously optimized and the variety of varieties has become more abundant with a high annual growth rate. As the urbanization rate in China continues to increase, the purchasing power per capita and expenditure increase year by year, and the demand for Chinese food has achieved rapid growth.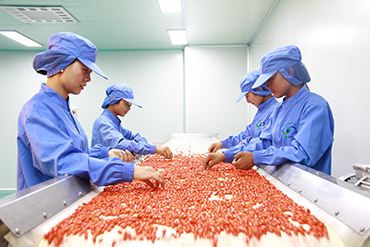 The main classification:
u Product processing
u Condiment processing
u Fruit products processing
u Alcohol processing
u Starch and its products processing
u Expanded food processing
u Candy products processing
u Beverage processing
u Casual snacks
u Aquatic products processing
u Egg products processing
u Noodle products processing
u Dairy processing
u Soy products processing
u Rice products processing
u Potato products plus
u Vegetable processing
u Comprehensive processing technology
Our company's main processed foods are fruit products processing and vegetable processing.No chemical additives, pure physical means to dry fruits and vegetables dried products.